Desserts!



Eating Well
is the
Best Revenge!




Dear Lover of Fine Desserts: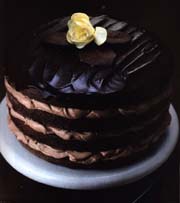 Desserts are fun to create, to cook, and to eat. There may be a lot of noble art in cooking a swan, but it is never as pretty or delectible as a mound of spun sugar on a high chocolate mousse tart. Here are some really good recipes, and we will be continuously adding to this part of the site. Soon it is the time for pies made with real mince meat, especially venison, and lots of fruit goodies. We also will soon put up a triple chocolate tower cake.

Bookmark this site or add it to your favorites list now. Come back often to see what's cooking. I would appreciate feedback, especially as to anything you may find confusing or hard to understand in the recipes. Keep in touch, and... KEEP ON COOKIN'!




Click Below for More Recipes & Recommendations by Bruce Moffitt:
Great Recipes Home
Seafood Recipes
Entrees Plus
Holiday Recipes
Great Sauces
Unusual Salads
Survival and Needed Recipes
Wonderful Desserts
Favorite Mexican Foods
Kitchen Safety, Please Read




If you like handmade Sterling Silver jewelry in the Southwestern style,
click here to visit www.Bruce-Moffitt-Jewelry.com.